Many people want to use or at least to try that fucking incredible miracle called Linux but they are totally scared about leaving Windows – after all they are using Windows from beginning of time and they are not sure would they ever get used with new PC environment.
The least painful solution for people who would like to use Linux on their own computers and to thereby gradually adapt themselves is to have two operating systems on computer, Windows and Linux. Some of the questions I receive about this case are:
Will two operating systems in same time broke my computer somehow, kill performance or something else?
No, It will not, only one OS will work in same time. When you use Windows – Linux sleeping like a bear and vice versa.
Will Linux see files on Windows partitions and vice versa , or I need to copy important files somewhere?
Linux is a king and will normally see all the files stored on the file system used by Windows (NTFS / FAT32 / FAT) but in other hand, Windows is a bit simple-minded, so except file system created by Microsoft he will not see anything else.
So, Linux will see Windows partition and all files on it normally but invert operation is not possible.
Would "that dual-boot" something fucked-up on my Windows?
No, until you don't screwed up something by yourself, delete something from Windows system files, format wrong partition or something else. Your attention need to be ON.
How much time will Linux Mint installation need?
About 10-30 minutes – total. Drivers, programs and configuration – included.
Why do I need to make dual-boot. I can boot Linux from USB or DVD when I have need for Linux?
Yes you can, but in case of full install you will always have updated and configured system, plus it will boot faster…and also, there is a question, would you always have USB flash or DVD with yourself.
OK, let's start with installation…
First of all, because you are newbie in Linux world and this is your first standalone installation, please, backup important files from your computer to USB flash, cloud or external disk (Murphy law is always online)…
Possibility to screw up something is less than 1%, but devil never sleep, if you understand me…so you do everything at your own risk. Be careful and do not click on everything without reading.
What is required before this Linux story?
Minimum 20GB of free space on your hard disk (and don't forget, Windows also need minimum 15% of free space for himself – because of disk fragmentation)
Linux Mint installation DVD (you can downloaded it from here). I will suggest to you to install Linux Mint Cinnamon (Cinnamon is most beautiful desktop environment). If you have 32-bit CPU download 32-bit instance of Linux Mint, and if you have 64-bit CPU than nothing (just kidding). That ISO file you can burn to DVD (Burn ISO image option on CDBurnerXP) or you can burn it to USB flash with Unetbootin
At least 512MB of RAM and processor with minimum 1GHz
For dual-boot you need to have Windows (well douh), and in this tutorial we will use Windows 7
What could go wrong?
In small percent of laptops of PC's there can be some problems with drivers for graphic card or Wireless module. If you get that problem, solution is somewhere in Google search (but UTP cable will always work 😉

Little notice: This tutorial is for Linux Mint but you can use it for almost all Ubuntu-based linux distros (Linux Mint is based on Ubuntu) because all them use same Ubuntu installer, so on this way you can install Ubuntu, BackBox Linux, Xubuntu, Lubuntu, elementaryOS, Zorin, LXLE, Kubuntu and other Linux folks. You will see, installation is piece of cake 🙂
Step 1 – Partition shrinking for 20GB
Right click on Computer – Manage – Disk Management, then right click on partition where you have 20GB of free space (try to avoid Windows system partition if you can) and click Shrink Volume…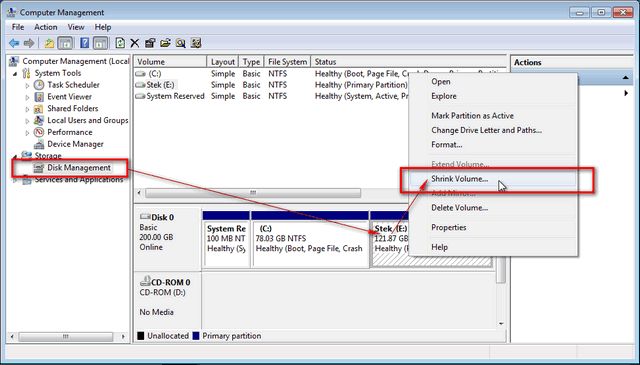 Under "Enter the amount of space to shrink in MB" type 20000 (to shrink partition for 20GB) and click shrink.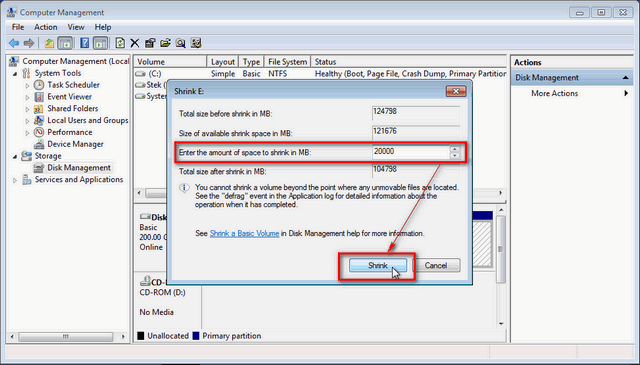 You will notice some "Unallocated" space on hard disk and that is good sign – you done everything well until now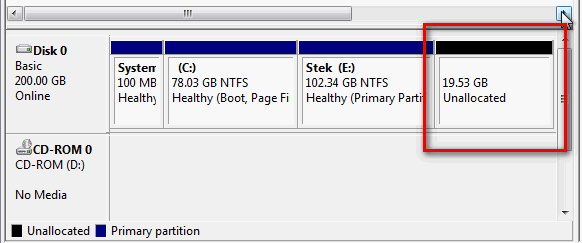 Step 2 – starting installation from DVD
Insert DVD, restart your computer, enter BIOS and configure DVD as first boot device and save BIOS options with F10 and restart computer. If you do everything right, you will see next image: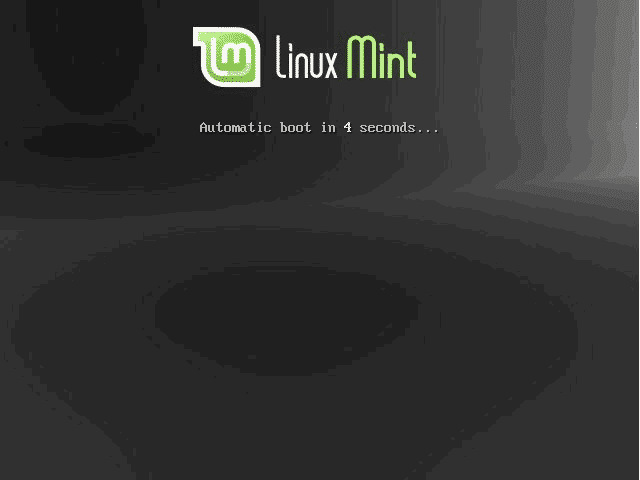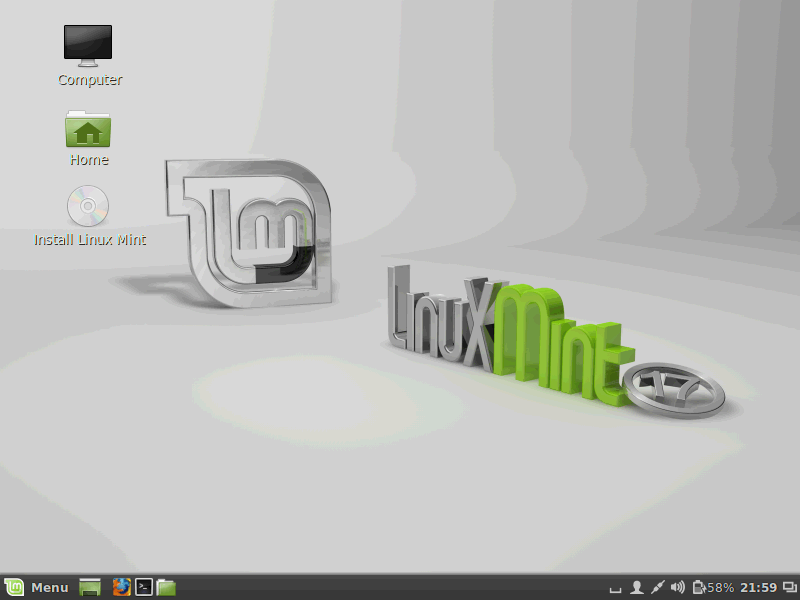 While you are in this windows, you can check how Linux Mint looks like, how it works, does he recognized WiFI and VGA card and similar stuff. Double-click on "Install Linux Mint" to start installation, and than follow instructions in pictures bellow.
As you can see by the time in the system tray, whole installation was finished for about 8 minutes, so with little bit tweaking and installation of some additional programs, you will need about 10 minutes. Not bad? How many time you need for Windows installation? 10 minutes? I dont think so.
After restart you will see GRUB menu and you can choose OS which you want to start. Linux Mint will be default option so if you don't move sparrow up or down it will be default OS.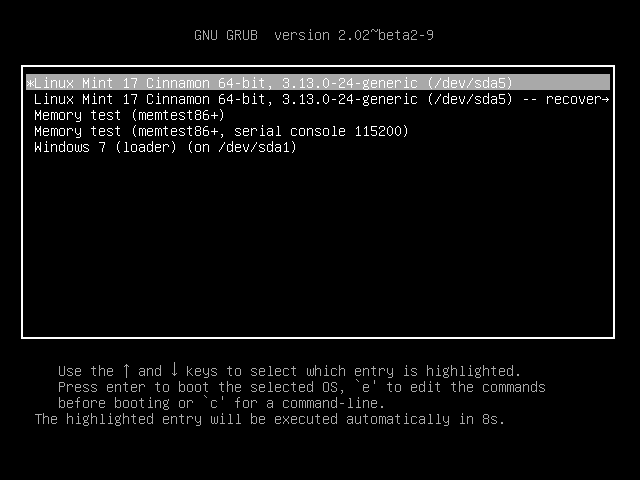 Step 4 (optional) – System update, additional configuring of GRUB menu
Well, this is additional steps, and you don't need to make them now. Without this steps you will have totally functional operating system and you can use it for web surfing (you have Firefox installed), movie watching (VLC media player), text or table editing (Libre Office), photo edit (GIMP) etc…
1) System update
2 ) Changing default boot order
Maybe you want Windows as default boot system, not Linux Mint – you want to use Mint as secondary OS. Well, there is human friendly program for this scenario called – Grub Customizer. With Grub Customizer, you can change or delete OS order in menu (I always delete memtest, I really don't need it), changing boot select time and other.
Little notice: For this step you will need to have internet connection.
Right click on empty space on Desktop and choose, "open in terminal", and then type next commands (new line is Enter) and type password when is prompted.
sudo add-apt-repository ppa:danielrichter2007/grub-customizer -y
sudo apt-get update
sudo apt-get install grub-customizer -y
Click on Menu, type "grub", click on Grub Customizer and type password when it's prompted..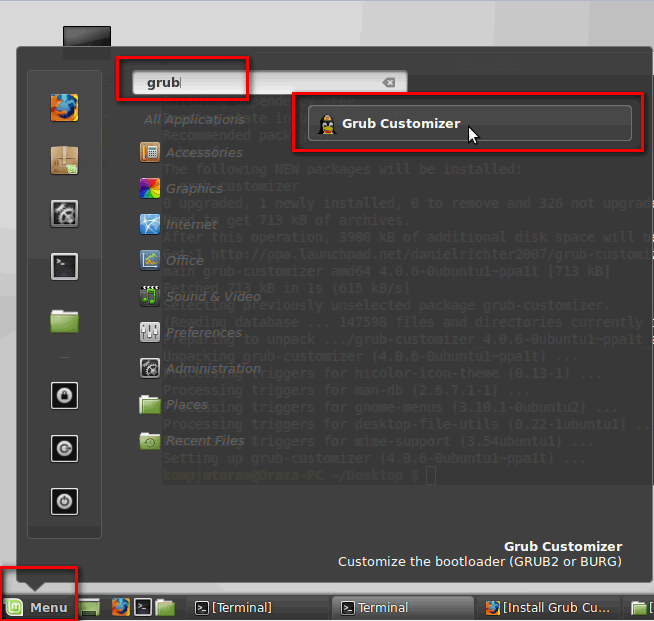 Installation of additional programs, games and other…
This can be done over graphical Software Manager (until you get used to terminal). On Software manager you can look like on Google Play Store or App Store…everything is based on "find and install".
I prefer to put everything what I need on one .sh script stored on Dropbox, so when I need it I simply download script from Dropbox and run. Here how script looks like:
# Software


sudo apt-get install chromium-browser -y
sudo apt-get install p7zip-full -y
sudo apt-get install network-manager-openvpn -y
sudo apt-get install openvpn -y
sudo apt-get install openssh-client -y
sudo apt-get install openssh-server -y
sudo apt-get install skype -y
sudo apt-get install gimp -y
sudo apt-get install inkscape -y
sudo apt-get install smplayer -y
sudo apt-get install gedit -y
sudo apt-get install unetbootin -y
sudo apt-get install pinta -y



# Educational software for my kids


sudo apt-get install tuxpaint tuxpaint-data tuxpaint-config -y
sudo apt-get install gcompris -y



# Games for kids and me


sudo apt-get install supertuxkart -y
sudo apt-get install torcs -y
sudo apt-get install trigger-rally -y
sudo apt-get install hedgewars -y
sudo apt-get install openarena -y
sudo apt-get install frozen-bubble -y
sudo apt-get install supertux -y
sudo apt-get install sauerbraten -y
sudo apt-get install neverball -y
sudo apt-get install lbreakout2 -y
sudo apt-get install assaultcube -y
sudo apt-get install assaultcube -y
sudo apt-get install gnome-games -y
sudo apt-get install extremetuxracer -y
sudo apt-get install neverputt -y
sudo apt-get install xmoto -y
sudo apt-get install zaz -y
sudo apt-get install abuse -y
sudo apt-get install scorched3d -y
sudo apt-get install smc -y
sudo apt-get install gl-117 -y

Exercise:
Here is some simple tasks which you can do (ask mr.Google for help):
How to change desktop background?
How to get weather results on desktop?
How to mount Windows partitions in Linux on boot?
How to change windows and cursor theme?
Find program for DVD burning (it's already installed)